Deska Kite Ozone Torque V1
All Round Freeride and Freestyle Performance
Medium Rocker and Medium Flex
Square Tip Outline with Amazing Pop and Control
Intermediate to Advanced Riders


The Torque is all about progression, it raises the bar for solid edging, ease of loading, power retention and the all important POP factor.
Providing un-compromised performance for freeriders and freestylers, the Torque is ultra smooth and responsive, delivering explosive performance with amazing flex and hold to stick your landings.

The Torque carries the optimum width from the center to the tips, the square tip outline allows for straighter rails that have more surface area to load up against for an insane pop experience, whether you are boosting airs with straps or throwing unhooked moves with boots.

The medium flex and rocker is a combination of the best of both worlds; soft landing and great upwind drive. A precisely tuned quad concave hull combats chop and keeps the board tracking sharply.

The feeling, stability and predictability of the Torque means it has never been so easy to progress in all aspects of twin tip riding, go send it and see!
Range of Use
suggested SIZE & rider weight range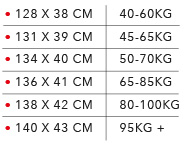 ​
Size and weight range is indicative only based on normal riding conditions. Actual range will vary based on rider preference, skill level and strength of wind.
Features
Exceptional Ozone Factory Construction
World-class construction in our own factory, using the highest quality materials and hand checked Quality Control at every step. The Ozone factory also manufactures our Kites, Paragliders and Speed Wings; the same Quality Control processes are used across all products
The Quad concave channels water providing incredible tracking and pop without the feeling of being totally locked on a rail. The board remains alive, fun to ride and super smooth in the chop. If you send it hard, the quad concave will help absorb and control fast and heavy landings.
The Square Tip Outline provides excellent edge retention and strong upwind performance allowing you to load massive pop even at lower speed.
Continuous Medium Rocker with Medium Flex
The continuous medium rocker combined with a medium all-round flex offers a smooth ride with ultimate control in heavy chop, good upwind performance, optimized pop and soft landings.
Swallow shaped tips allow a strong edge hold while increasing stability and control when carving. This gives a strong edge hold and positive feel when carving or loading and releasing off the water during a jump.
The premium A-grade Paulownia core provides ultimate flex characteristics, amazing strength, and reduced weight.
Precise lamination using high quality Biaxial and UD fiberglass layers to provide the ultimate balance of flex, response and strength.
A-grade 316 Stainless Steel inserts
Highest quality 316 Stainless Steel inserts embedded into high strength polymer blocks. This insert construction offers superior strength for powered riding and using boots.
Grab Recesses on both rails if riding without a handle.
Having comfortable footpads and straps can be the difference between a good session and a bad one. Our V2 design provides the ultimate balance between performance and comfort to keep the good sessions rolling!
Two fin designs offer the choice for solid edge hold or increased freedom. Choose the 45mm size for maximum grip while edging and taking off to boost. The 35mm size is perfect for freestyle riders using boots and for those looking for increased freedom while carving. Our V2 fins are precisely injection molded using advanced glass-filled nylon materials for high strength and wear resistance.
Strong and durable with a textured underside grip for maximum control during water starts to board offs.