Deska Kite Duotone Pro Wam 2020 + Finy
Pro Wam
STRAPLESS PURE SURF
Art.-No.
44200-3406
The Pro Wam is a great all-rounder and able to handle all sorts of wave conditions. It is built around a high- performance, yet traditional surf shape that excels in most conditions from small to large waves. Now also for kids!
Key Features
Duotone Pro Wam 2020

Best all-rounder

A classic surf shape is the guarantee for a great All-rounder.
Balance of grip and snaps

Excellent balance of grip and explosive snaps off the top.
Fast and stable

Speed in combination with absolute control is the magic combination.
Light Team Construction

A very light, still very robust construction with a lot of feedback for the rider.
Cork shock absorber 2.0

The cork shock absorber 2.0 is applied as a damper in the heel area of the surfboard to avoid heel dents.
Vacuum Epoxy Custom

The best mix for a pure surf feel, but still robust and durable enough to take the impacts a kitesurf board needs to take.
Characteristics
Duotone Pro Wam 2020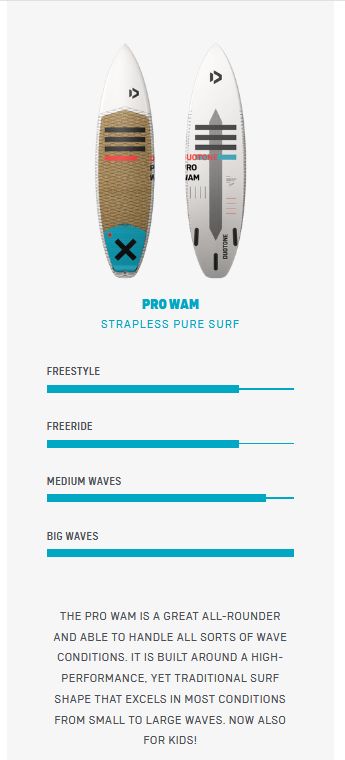 Details
Duotone Pro Wam 2020

The Pro Wam has been completely re-designed from the ground up to remain on the cutting edge of high performance surfing. For the newest generation of kitesurfers from 40kg on, even a 5?3 was added to the range! Slightly shorter and wider than it?s predecessor and with more width and volume under the front foot, the Pro Wam is the embodiment of the high performance squash-tail kite-surfboard. At home in everything from small onshore waves to pumping down-the-line surf, the WAM is the go-to high performance kite-surfboard for our team riders competing on the GKA world tour. The new Wam is noticeably faster, more lively and agile than the previous models thanks to a slightly narrower tail and rounder outline, giving you a dynamic and exciting ride no matter the conditions.

Cork Shock Absorber 2.0
Cork offers excellent absorption characteristics and reforms entirely without leaving any visible dents in contrast to PVC. Therefore, it is applied as a damper in the heel area of the surfboards.
Grab Rails
Grab Rails for easier freestyle tricks, durability and comfortable general riding.
Technora Net
Technora is a para-aramid fibre with excellent technical properties for high performance kite surfboards. It?s high-tensile strength, good fatigue resistance and long term dimensional stability make it an ideal fibre for use in areas of boards that take repeated impact. We have oriented the Technora fibre in a way that does not affect the overall feel and flex of the board and have slightly altered our overall layup in order to not add any additional weight to the boards while still taking full advantage of the superior strength of Technora to prevent cracking and breakage.
Responsive Flex
Using bamboo in our surf boards, we take full advantage of the dynamic qualities of this natural product. Optimized layers and the mix with composite materials help us to construct powerful, agile and versatile surf boards that come with a unique flex ? responsive flex!
Light Team Construction
We are using a more labor intensive, multi-step vacuum bag process that yields a super strong, lightweight board with a custom, hand sanded finish. The most substantial change to the light team construction, is that we no longer use a full bamboo sandwich. The cork shock absorber, which used to be concealed under the bamboo sandwich, is now clearly visible under the deck skin and allows the deck to flex and absorb shock like a custom PU board with minimal to no heel denting, thanks to the underlying reinforcements and the remarkable memory properties of cork. Pure surf board feel in an ultra light but durable construction!
Multibox
All boards now come with our own Futures Fins compatible fin boxes. Two side set screws and no rear tab allow for a wider tolerance of fin fitting and ensure a perfect and tight fit every time whether you?re using our high quality composite fins or any stock after market Futures brand fin. Easy to install and uninstall even with Sand and Salt.